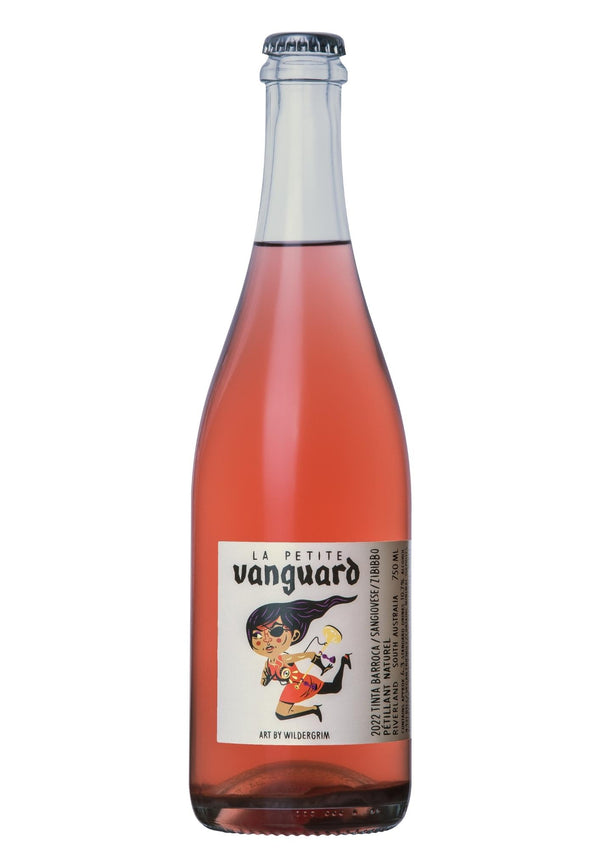 2022 La Petite Vanguard Petillant Naturel
SOURCED FROM 919 VINEYARD, LOXTON
BASSHAM VINEYARD, BARMERA, RIVERLAND
We've always thought of the La Petite Vanguard as being our example of a Bistro style wine – the experimental sibling to Vanguardist. Youthful & vibrant, with great drinkability, enhanced by layers of complexity from thoughtful use of solids, skin contact, oak and other vessels.  

VINEYARD AND WINERY
In 2021 we produced a Sangiovese/Zibbibo Pet-Nat that was well received and sold out within weeks.

This year, the addition of Tinta Barocca added another layer of complexity, adding to the beautiful crushed 'barely ripe' strawberry notes from the Sangiovese/Zibibbo fruit blend. All together offering the desired savoury character we like to showcase in our Pet-Nat's.

The final blend consists of 66% Tinta Barroca, 26% Sangiovese and 8% Zibibbo.
All of the fruit is organic certified. We hand harvested and pressed the fruit all together on the 16th February 2022. The Sangiovese and Zibbibo parcels were sourced from the 919 Vineyard in Loxton, and Tinta Barocca from Bassham Vineyard in Barmera, both in the Riverland.

This wine finished its primary ferment in bottle with native yeasts and no other adds.
Enjoyed super chilled as a refreshing aperitif before any meal, be it breakfast/lunch or dinner!

360 dozen produced
FSO2 at bottling: 0ppm
TSO2: 0ppm
pH: 3.52
TA: 5.1g/L
Alcohol: 10.8%