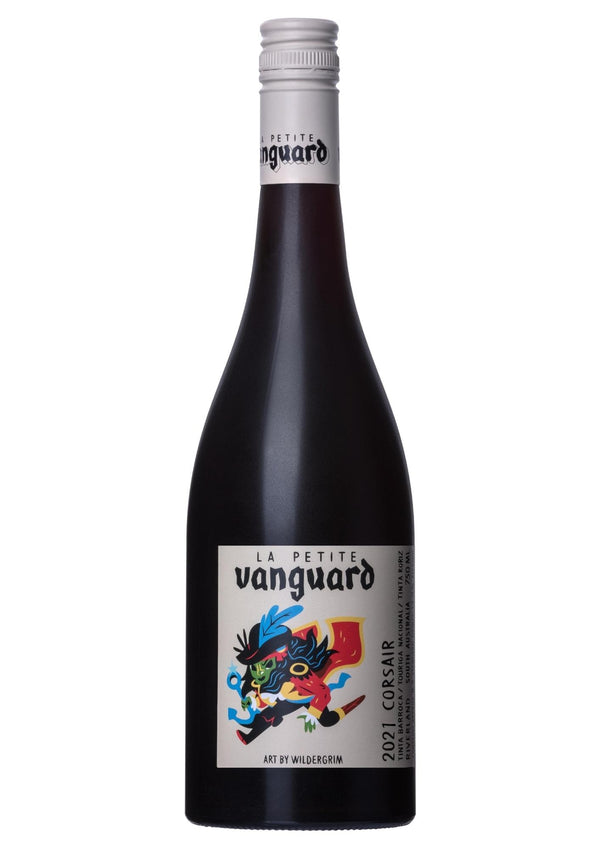 2021 La Petite Vanguard - CORSAIR
BARMERA/GLOSSOP/LOXTON
RIVERLAND, SOUTH AUSTRALIA
We've always thought of the La Petite Vanguard as being our example of a Bistro style wine – the experimental sibling to Vanguardist. Youthful & vibrant, with great drinkability, enhanced by layers of complexity from thoughtful use of solids, skin contact, oak and other vessels.

WINEMAKING
With our enthusiasm and slight obsession with France, and vision for this wine to be a pirate blend of three Portuguese varieties - Tinta Barroca, Touriga Nacional, Tinta Roriz...the CORSAIR was born. 2021 sees the second release of this wine.
'Corsair's were privateers, authorized to conduct raids on shipping of a nation at war with France, on behalf of the French crown'.
Harvested by hand and fermented separately in open-top 1t fermenters, these wines were gently plunged daily for 2-3 weeks before being basket pressed.
The three wines were held separately in seasoned barriques (228L) for nine months before being blended, prior to bottling without fining or filtration.
With both fresh red, red liquorice fruits from the Tinta Barroca, and broody dark fruits from the Touriga & Roriz it's drinking beautifully now and will develop well for several years to come.
317 dozen produced
FSO2 at bottling: 26ppm
TSO2: 56ppm
pH: 3.79
TA: 5.4g/L
Alcohol: 13.6%