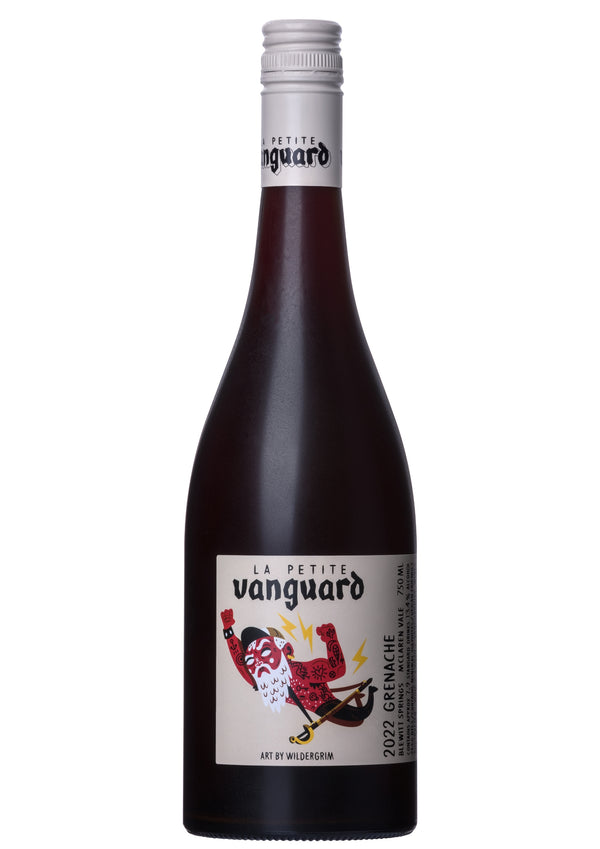 2022 La Petite Vanguard Grenache
SOURCED FROM RENDE VINEYARD, BLEWITT SPRINGS, MCLAREN VALE
We've always thought of the La Petite Vanguard as being our example of a Bistro-style wine – the experimental sibling to Vanguardist. Youthful & vibrant, with great drinkability, enhanced by layers of complexity from thoughtful use of solids, skin contact, oak and other vessels.
VINEYARD AND WINERY
2022 saw the second consecutive cooler season with balanced precipitation. Canopies were full and lush with good winter rain in 2021. We harvested by hand on four separate occasions, beginning 9th March and concluding on the 12th April. Yields were almost identical to the 2021 season at around 38HL/Ha, close to the 50-odd-year long-term average.
The final wine sees 70% whole cluster. Elevage occurred in mature 500L puncheons for 10 months post press. The final wine was blended and sent to bottle without fining or filtration. The wines of 2022 are showing youthful energy and minerality, with pronounced and intense flavour. Even at the La Petite Vanguard level the wines of 2022 will develop gracefully and age very well for the medium to long term.
____________________________________________________________________

DOWNLOAD
____________________________________________________________________
FSO2 at bottling: 22ppm
TSO2: 72ppm
pH: 3.38
TA: 5.8g/L
Alcohol: 12.9%